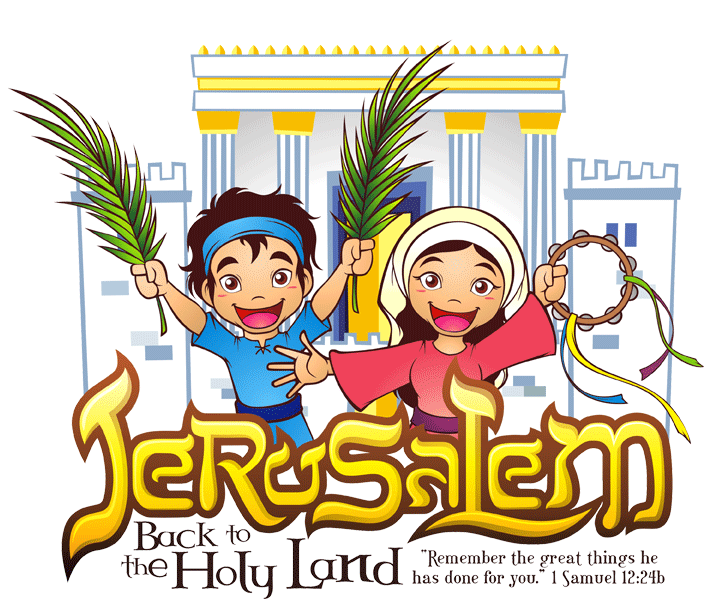 1. What is the theme about?
The theme is about Jesus Christ and His Jerusalem journey. It focuses on His life, teachings, and miracles.
VBS Jerusalem aims to introduce Jesus in a different light, on a more personal level, by teaching stories about the great things He has done. VBS Jerusalem is a traveling theme. Each day, the kids will experience and see the different vistas that Jesus visited in Jerusalem. It also presents the Jewish culture—the exact culture that Jesus lived in. VBS Jerusalem encourages the kids to have a personal relationship with the Ultimate Guide of life, our Lord and Savior Jesus Christ
2. What's new about this VBS?
The VBS package comes with all-new attendance stickers!
The Teacher's Manual contains plenty of interesting trivia about the city of Jerusalem.
It has eight FREE follow-up lessons that could be downloaded from our website, www.csmpublishing.com. It's the perfect material that you can use to help your VBS kids transition into regular Sunday school students.
It has a lot more downloadables—extra attendance stickers, full-color visuals, craft templates, coloring sheets, and Tagalog music!
Crafts have been upgraded. Teachers are given two options for the craft—one is related to the Bible lesson, while the other craft teaches the Jewish symbol for the day.
3. Why is there only one Teacher's Manual for all ages?
VBS Jerusalem is designed for use by both large and small churches, so we have prepared a material that is friendly to classes with mixed-age groups.
The Teacher's Manual also offers options to customize your teaching for older or younger students. The material is also applicable to age-graded classes.
The teachers will learn to adapt the material to their context instead of simply going through all the activities.
4. Why is there only one Student's Journal for all ages?
Having one general journal for students makes doing the activities easier for mixed-age groups.
The Student's Journal is carefully designed to include both simple activities for younger students and activities more suited for older ones; it is also applicable to age-graded classes.
5. How many levels does this curriculum have?
Three for the printed material: Beginners (ages 4-6), Children 1 (ages 7-9), and Children 2 (ages 10-12)
Youth lessons (for ages 13-15) are available for only P100. These lessons may be downloaded from our website,
www.csm-publishing.com. But if you need printed copies, we print them only by request. For inquiries, please send an
e-mail to order@csmpublishing.com or contact our Sales Department at 851-0521 and 25.
6. What does the VBS Jerusalem package include?
50 Traveler's Journals (in full color, good for Beginners to Children 2)
7. Are visual aids/Teaching Pictures included?
Yes! Teaching Pictures for each VBS day may be downloaded for FREE from our website. You can choose between the colored and black & white versions.
8. Where are the attendance and song charts?
There are two creative and thematic ways of recording VBS Jerusalem attendance (featured in the Director's and Teacher's Manuals).
Extra attendance stickers and other decorations for the attendance charts may be downloaded from our website.
The song lyrics are all included in the Director's and Teacher's Manuals. You can put them on PowerPoint slides or write them on cartolina or manila paper.
9. Why does the Music CD contain only English songs?
The Tagalog songs are available for FREE. These songs may be downloaded from our website, www.csm-publishing.com (both music files and lyrics with chords).
10. What other resources are downloadable for FREE, and what is the password?
You can also download coloring sheets for Beginners, craft templates, as well as promo tarps and promo flyers.
11. How many teachers/VBS staff would we need in order to hold this VBS?
That would depend on the number of students you are planning to have. At the very least, your VBS staff should be composed of a VBS Director, a secretary, a treasurer, three teachers (for Beginners, Children 1, and Children 2), an assistant for each teacher, kitchen crew, and security personnel, to serve 50 students.
12. Magkano ang buong package?
13. Can we buy additional Student's Journals and other accessories?
Yes, you can order through CSM's partner bookstores or you can buy them directly from the CSM Bookcorner.
14. May we photocopy the materials?
We do not encourage photocopying or reproducing our materials.
Photocopying our materials would make extra work for you and produce hard-to-read manuals and unattractive journals.
15. Where can we buy the VBS package?
The VBS package is available at the CSM Bookcorner, at all Philippine Christian Bookstore (PCBS) branches, Back to the Bible Bookstore, St. Francis Bookstore, CLC Bookshops, and other Christian bookstores nationwide. You can also send an
e-mail to order@csmpublishing.com and we can deliver the package to you.
Copyright © 2018 CSM Publishing Inc. All Rights Reserved.